Restore Your Pavers
Clean, Seal, Protect
Restore Your Pavers - Clean, Seal, Protect
Erosion and Washout Prevention
No Peeling, No Clouding Over Time

No SLIP - No SKID Application
Paver and Sand Joint Stabilization

Restore the Original Look
Save Hundreds When You Get  Our Driveway/Lanai Combo!
Also Discounts for Veterans and First Responders
Sealing your pavers will keep them looking their best, keep the weeds out and the sand in the joint. We use a specially formulated paver sealer which includes an epoxy binder additive that hardens the sand in the joint making it very difficult for weeds and vegetation to grow. This will also keep the sand in the joint and not on top of the paver, which can get caught in shoes and brought into the house.
In addition to the maintenance benefits from the stabilized sand, the sealer will also help protect your pavers from stains.
About Paver Patio Stones
Paver Patio Stones are very hard and durable, they are also extremely porous. This makes them very vulnerable to oil stains, spills, and moisture related problems such as efflorescence. The sand between and below the pavers is also a weak point. It can easily wash away with heavy rain and will also quickly start to grow weeds soon after construction. Both can cause serious structural problems for your pavers. Sealing your pavers can address all these issues, as well as enhance and restore the colors to your pavers. We have sealers that leave a completely natural appearance, and paver sealers that beautifully enhance the colors and leave a rich wet look. Sealing not only protects the paver itself, but also the sand between the pavers. As the sealer soaks deep into the sand joint, it hardens and locks the sand into a solid mass that cannot wash away or grow weeds. Aesthetically, there is no question that a properly sealed brick paver surface looks better than its unsealed counterpart. Call Next Level Cleaning and Sealing of Cape Coral for all your paver cleaning and sealing services.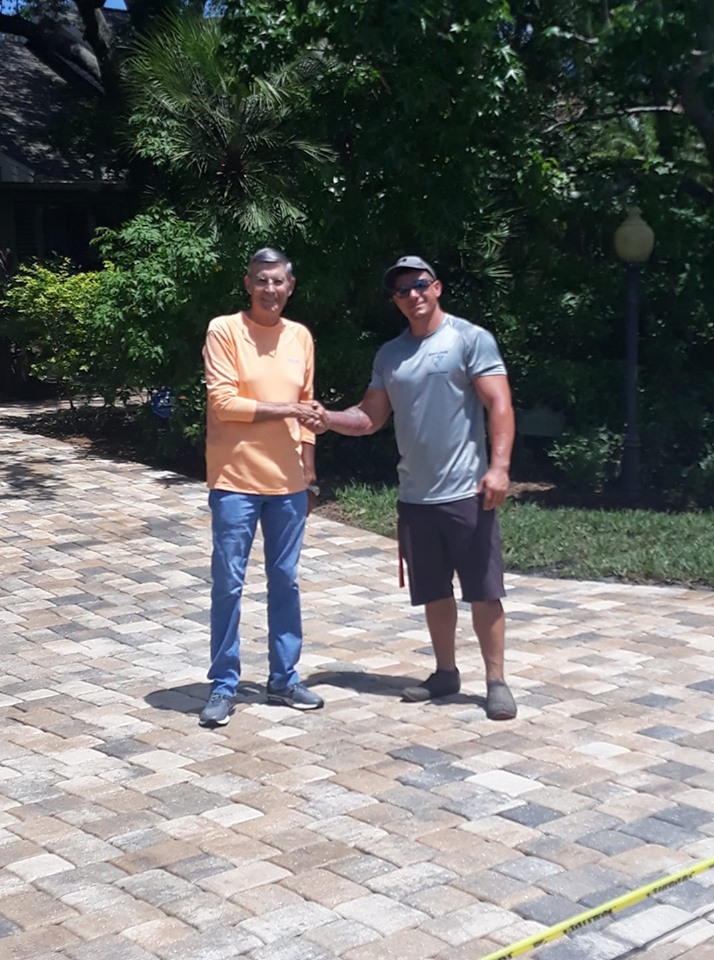 You invest in your paver hardscape and like a home your pavers require regular maintenance.
Key Benefits include:
✓ Erosion and Washout Prevention
✓ 3-4 Years Durability

✓ Color Enhancement

✓ No Peeling, No Clouding Over Time
✓ Paver and Sand Joint Stabilization
✓ Stain Prevention
✓ No SLIP - No SKID Application
✓ Prevent Weed Growth
✓ Restore the Original Look of Your Pavers
We always use our Durable 3-4 Year No SKID - No SLIP Paver Sealer